If there's one thing we know how to do exceptionally well at Hog Roast Atherstone , it's keep a secret. Over the years, we've had the pleasure of catering countless surprise birthday parties, and our reputation for discretion is unmatched. So, when Eleanor was looking for a caterer to create an unforgettable feast for her daughter Maeve's 21st birthday party, she didn't need to look any further.
We came highly recommended by a close friend who had previously experienced and loved our services. The stars aligned as we had an open booking slot precisely when Eleanor needed it, and the magic began to unfold.
Maeve's love for Harry Potter was the driving force behind the theme of her surprise birthday party. Eleanor meticulously planned every detail to ensure it was a celebration befitting a witch or wizard from Hogwarts.
From the sorting hat cake, which unveiled Maeve's Hogwarts house colour (yellow for Hufflepuff) when cut, to the four long tables adorned with the themes of each Hogwarts house, complete with floating candles hovering above, Eleanor excelled in creating an enchanting atmosphere. To add to the illusion, a skilled mixologist crafted potion-themed cocktails that transported guests straight to the wizarding world. Everyone arrived dressed in Hogwarts robes, truly embracing the spirit of the occasion.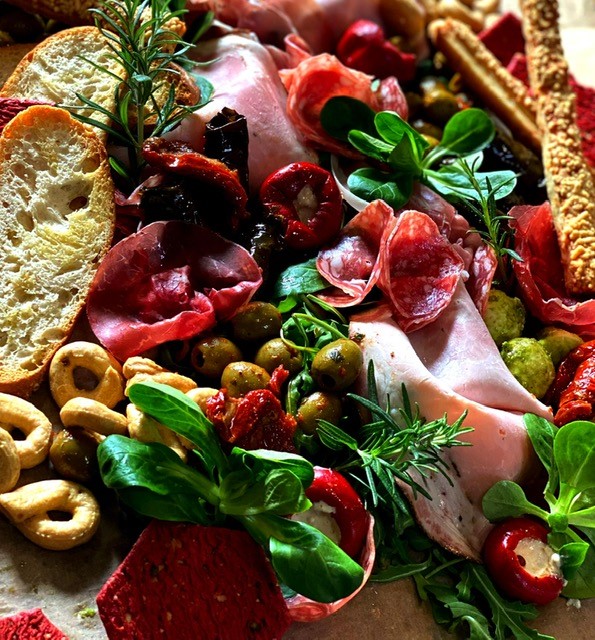 When it came to the food, Hog Roast Atherstone's catering manager, Jon, left no stone unturned. Our Alfresco Menu was the perfect choice for the occasion, which saw each table centred by a tantalising charcuterie board boasting deli meats, cheeses, artisan bread, sun dried tomatoes, and delectable dressings.
For the main course, our expertly roasted hog, slow-cooked to perfection, was served with crispy crackling, flavourful stuffing, and homemade applesauce. Complementing the centrepiece were sides of coleslaw, roasted new potatoes, and fresh salads, adding variety and an array of flavours to the menu. For those following meat-free diets, we offered grilled veggie kebabs with the option of Greek halloumi.
As the meal reached its delightful conclusion, profiteroles and chocolate torte graced the tables, leaving guests in awe of the culinary experience. The birthday girl herself, Maeve, was left speechless by the enchanting evening and couldn't have envisioned a more magical way to celebrate her 21st birthday.
With Hog Roast Atherstone's exquisite cuisine and Eleanor's attention to detail, it was truly a night to remember in the spirit of Harry Potter's wizarding world.