Welcome to Spitting Pig Warwickshire, the number one in party catering and hog roast catering or corporate occasions. We've catered at every type of event under the sun whether a birthday party, wedding, or corporate dinner, a business breakfast or a work party, and we always make the best hog roasts for all these events. The staff at Spitting Pig Warwickshire are the best of the best, the cream of the crop in hog roast catering, with bags of skills and bucket loads of experience, they know what makes events tick and what makes people tick. And there's nothing to get your guests going like a hog roast, there really isn't. A hog roast is above all else for event catering and because we make the best roasted hogs in down the obvious choice is Spitting Pig.
Hog Roast Warwickshire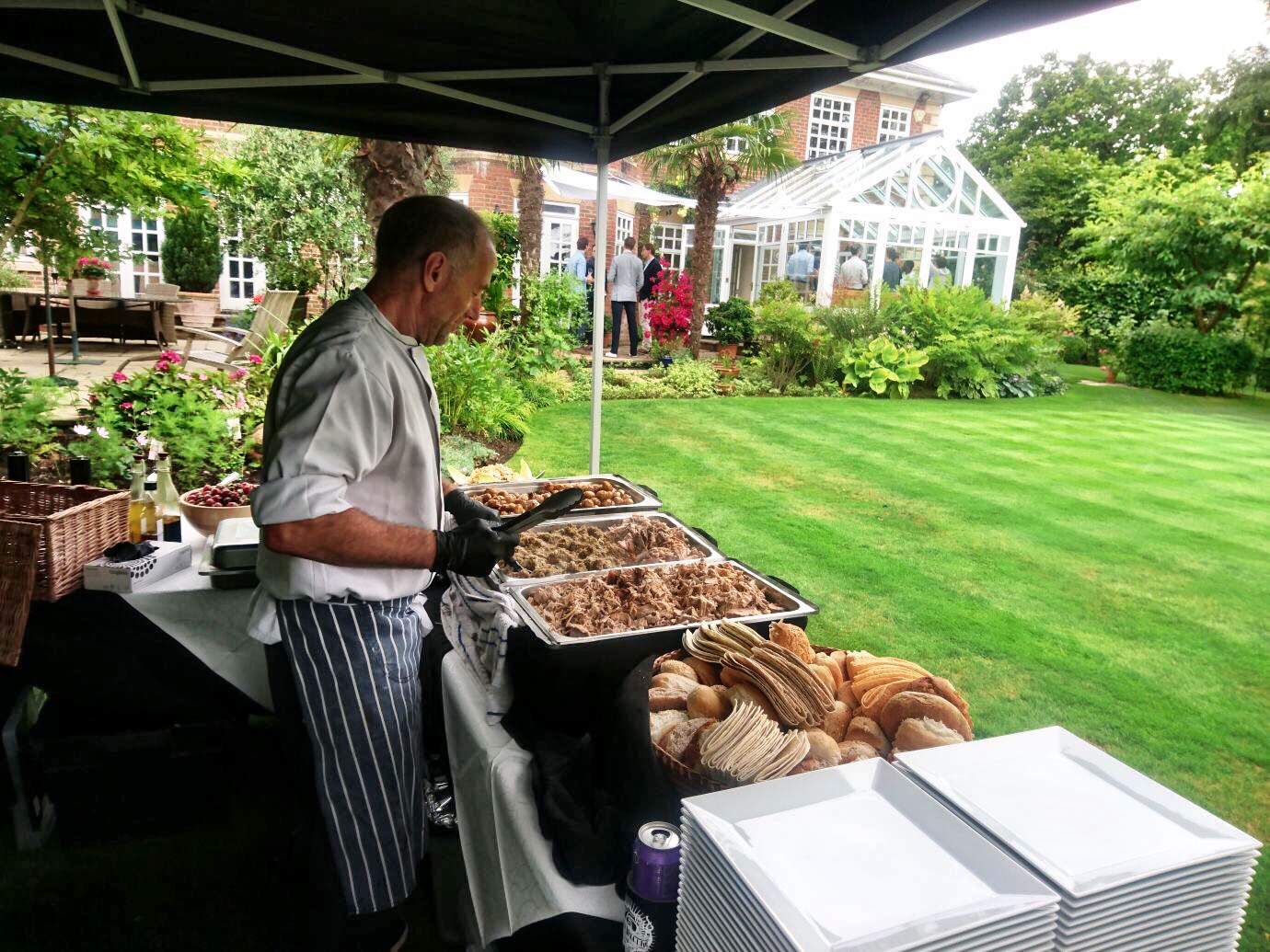 A hog roast can do many things for a party, not least of which is the famed hog roasted food that we serve at every event, but just as important for a wedding is the theatrical showpiece that is a scrumptious hog roast being cooked by our machines. There's nothing more apt for your celebration than big catering, and that's what a hog roast at an event is. A hog roast Kenilworth mirrors the significance and grandeur of your wedding. For the last few years Spitting Pig Warwickshire has been expanding in size and popularity, because more and more people are witnessing our admirable services and recommending us to their friends. Spitting Pig Warwick went viral long before the days of Youtube and Twitter.
Hog Roasts and Catering for all Occasions
Hog roasts go down well at all corporate events, it doesn't matter the size or location of your event because we have menus to suit everyone's budget and preference. We revel in events small and big, an office party with 50 people is no different to us than a family fun day with 500 people, all that matters is good food and we're good for cooking plenty of it. Spitting Pig Warwickshire can cater indoors and outdoors, the experience we have is wide ranging, we've mastered every hog roast Coventry alternative and guarantee a succulent pig, chicken, lamb or beef roast under all circumstances.
Some events have been held in around Warwick, Coventry, Nuneaton, Stratford Upon Avon, Rugby, Bromsgrove, Coleshill, Leamington Spa, and Shipton on Stour.
A hog roast Warwickshire is a fantastic focal point for any party , but if you're worried about
being upstaged by our awesome hog roast service we can cook out of sight and out of mind. We prefer giving events the visual presence we so often speak about, but more than anything we value our customers and their event preferences, which is why we're so happy to make alterations to our service to make your event visions realised. All dishes served at your event are prepared fresh on-site, and that's true for every menu. When finished catering at your hog roast in Coventry and your guests have finished the food, we'll clear away rubbish in a discrete manner and take it off site. We're always conscious of this process and are extraordinarily quiet, so not to cause distraction while leaving.
Spitting Pig Warwickshire is a name that's synonymous with fine catering, particularly hog roast Warwick catering. You can't ask about catering in Warwick without somebody bringing our name up, because we've catered at so many events weddings in particular and everyone who's sampled our hog roast Coventry, whether customers or guests, loves our juicy roasted hogs.
Every menu is a realm of different options, all there for you so that you can customise your menu and make your corporate event truly fantastic. We all have our own way of doing things and that's never truer than with events, we've seen so many versatile events over the years, even similar events have subtle differences and it's these subtle differences that make each corporate event unique. Fittingly, with Spitting Pig Warwickshire you can select
from a great collection of meals for your hog roast Kenilworth party and even go so far as to change menus to your liking if you fancy you can make improvements. Sometimes, for example, people like to add an additional food or two – whether canapes or main meal – for their event, to give their guests even more choice and really cater to everybody's taste, because that's what Spitting Pig Warwickshire is about, making a hog roast in town that's suitable for everybody.