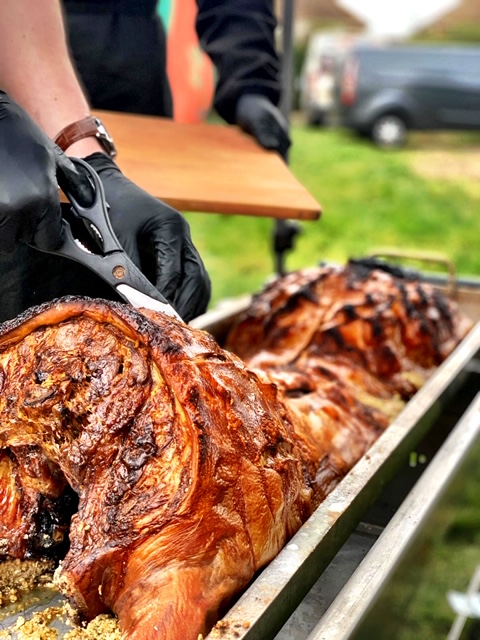 I'm Jon and I run Spitting Pig Warwickshire together with Claire and Ant. I have been in event catering for over 15 years and after completing my chef training at Stratford college, I worked in restaurants, then opened a coffee shop which I developed into a successful bistro, before progressing into outdoor catering. The three of us started our catering careers working together at a Nuneaton restaurant before going on to pursue our own ventures and it is fantastic to be back together again running our own exciting hog roast catering business. We love the hustle and bustle of outdoor event catering, the challenge of providing top quality food in different locations and the thrill of creating unique dining experiences for wedding receptions and many other events.
An Individual Warwick Catering Experience
The main focus of Spitting Pig is hog roasts and spit roasts, that's our distinguishing feature and why so many prefer Spitting Pig, because they know a hog roast Rugby is better than anything else that's out there. Hog roast Warwickshire is everything that's good about event catering, and more. The catering service we're applauded for is a celebration of good food, but better still it's a celebration of events and what makes them great. Society has known about the benefits of a spit roast for millennia, even as far back as hundreds of thousands of years ago the earliest societies were cooking their hunted food with spit roasts, and for just as long they've been used to bring people together.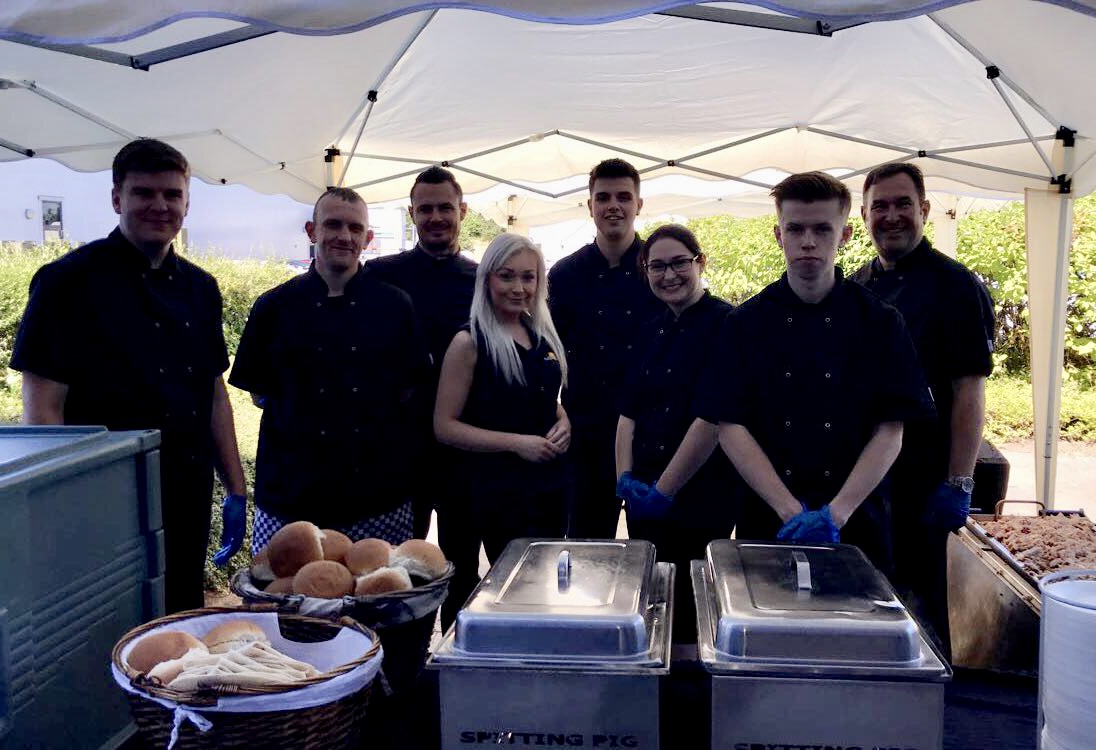 More than ever hog roasts are used in the same way, it's remarkably rare to find a hog roast used in any other capacity than for an event or party and there's a good reason for that – hog roasts are practically tailored for group gatherings, and they always have been, that's as true today as it was way back when.
A hog roast can add so much to an event, you'll find no alternative to the immense pleasures of a hog roast, and it's not just the unbelievable tasting food that makes hog roast Kingsbury so eventful, the cooking of a hog roast is an event in its own right and is always sure to captivate your guests as they watch our chef vicariously tending to a large pig as it rotates on our always impressive stainless steel spit roast machines, getting more and more succulent, more and more appealing with every turn.
It's safe to say that if your guests didn't arrive hungry they certainly will be after a few minutes of watching a hog roast in motion. The cooking of a hog roast is a show in itself and people love that side of what we do, because it's not just good food, it's a good experience, even before the food's been served.
High Quality Catering At An Affordable Price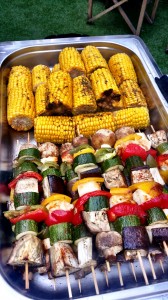 Hog Roast Warwickshire has one goal: To give you an event catering service you deserve and can afford for your hog roast Bedworth catering. We've a number of great talents at our disposal to fulfil that goal, not least of which is a strong group of expert hog roast chefs who know the ins and out of hog roast catering and have an excess of talent to make your roasted hog super tasty. We've always been advocates of getting out what you put in and there's no more a representation of that ideology than with our staff, they epitomise professionalism and ooze excellence. And best of all is that the chefs who work for us all love their work, and as they say, a happy workforce is a productive one.
The productivity of our chefs is only bested by the awe-inspiring raw power of our Spitting Pig spit roast machines. The machines used for hog roast Nuneaton are as good as they come, they're made by us in the UK and we've built them with knowledge and purpose, because the machines are made for event use, they're more than capable of cooking for a great amount of people.
Spitting Pig Warwickshire can cook a 90kg pig for your hog roast in Nuneaton and if you choose the chicken option, the machines we use are capable of cooking 30 chickens at the same. This makes it easy for us to cook delectable food for hundreds, sometimes thousands of people, without much difficulty. The combination of competent hog roast specialist chefs and state of the art hog roast machines is a winning one, but the combination only gets better via the quality of produce we cook with.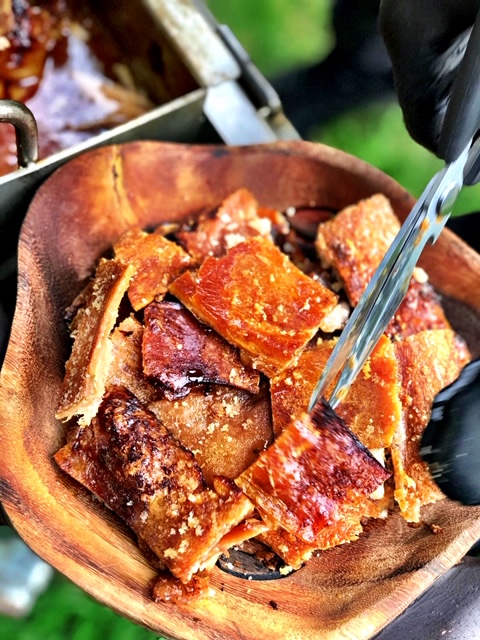 The ingredients used for a Hog Roast Nuneaton event are the premium in catering. How so? Well, we have a policy of using local farmers where we can, and if we can't do that one thing we always make sure of is that the quality of the produce is the very best, that's why the pigs, chickens and other meats we use live free range, and the salads and non-meat ingredients are organic.
People often wonder why our hog roasts tastes so much better than other hog roasts they've had before, and that's one of the biggest reasons there is. When you use great ingredients, the finished product is better than ever. You can really taste the difference between a hog roast with supermarket standard meat and a hog roast with animals fresh from independent butchers.
We also rent our machines out to customers, so now you can get that trademark Spitting Pig taste and at only a percentage of the cost of catering. If you're lusting for a hog roast but you're on a budget, you can't go past Spitting Pig machine hire for your hog roast Warwickshire event, there really isn't an equal the fantastic spit roast machines that we have to our name, if you're hiring a machine you've found the best in hog roast hire in Spitting Pig Warwickshire.
No matter how you want your hog roast we have a solution for your food needs.